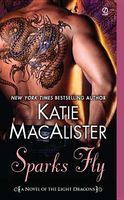 Series: Light Dragons (Book 3)
Ysolde de Bouchier has a lot on her plate, which isn't unusual considering her Light Dragon mate Baltic is still at odds with just about everyone, starting with his former guard Thala and her outlaw posse, right down to his dragon god father. Ysolde herself fairs no better, since the First Dragon has her in his sights as well, demanding that she right past wrongs…and her time to do that is quickly running out.

With the help of some familiar friends, Ysolde sets into motion an elaborate plan that will have repercussions throughout the mortal and immortal worlds. But when a member of her family is held hostage, no one is safe from the fire of her rage.
Another fun Light Dragons book. Baltic is being his usual stubborn self. He doesn't feel that he needs to be part of the community of dragons, they are just fine on their own. He feels no need to lift the curse from the silver dragons. He does want to track down Thala and take care of that problem, and get on with restoring his castle. Ysolde is still trying to figure out how to fulfill the First Dragon's demands, especially since he won't tell her exactly what he wants done. She also needs to do some heavy bargaining to acquire some artifacts that she needs for various purposes. When her ex-husband kidnaps her son, she goes on a rampage to get him back. That battle is pretty intense, but with some fun moments too. The final battle of the book is very good, with some serious mayhem happening. I loved the part where she confronts the First Dragon, doing and saying things that make other dragons present cringe, but she doesn't care. The epilogue is great, and I loved the machinations that went on. Ysolde's son Brom is one of my favorite characters, and I loved his mixture of little boy and adult. The scene with Constantine in the sex shop was hysterical. I really hope there will be another Light Dragons book, because I really want to see what happens with Thala.