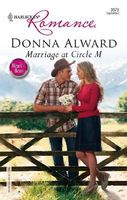 Series: Heart to Heart
Secrets are hard to keep in a small town...
But Grace Lundquist is determined to hide her pain. Hardworking and always cheerful, she's the town's sweetheart. Everybody loves her....
Grace knows that one man isn't fooled. When Mike Gardner looks at her, she feels he can see right into her soul. But, try as she might to keep the strong, gorgeous cowboy out of her business, Grace can't douse the spark between them....
Very good book. Grace had returned to her hometown after her divorce. She held down several jobs to make ends meet and also to keep herself busy. She was also running into Mike more often, now that he had left rodeoing and settled down. She had been in love with him for years, but knew nothing could come of it now. Mike had finally admitted his feelings for her to himself. He found himself wanting to spend more time with her and to protect her. But the more he did, the more he ran into her independent streak. They spent a lot of time arguing with each other. Mike was having trouble believing that she could love him, due to his childhood bouncing from foster home to foster home. Grace was sure that even if Mike said he loved her, he would walk away when he knew her secret. There was so much emotion at the end of the book that I was in tears for a good share of it. I was glad to see how it all worked out.