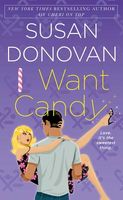 Series: Bigler (Book 2)
Candace Carmichael was just getting used to the lavish life when everything went sour. Now the down-on-her-luck real estate agent is back in Bigler, North Carolina, jobless and illegally rooming with her her mother in a swank retirement community. All this makes her wonder why she ever considered her BFF Cheri's invitation to move back home. Life in this small mountain town may not be as glamorous as the one she had in Tampa, but she knows a girl can't be too choosy in this market. Besides, everyone's happy to welcome Candy back -- especially one handsome widower named Turner...

Turner has grown up to be one fine-looking piece of man candy -- and looks even tastier in his sheriff's uniform. Maybe that's why she couldn't resist kissing him when he pulled her over for a traffic violation. Even if a relationship was part of Candy's business plan, Turner would be off limits -- he still wears his wedding ring, four years after his wife died. If falling in love too fast is a crime, Candy is soon guilty as charged and ready to be fingerprinted. But is she ready to lock away her dreams and hand Turner the keys to her heart?
Another fun trip to Bigler NC. I really liked both Candy and Turner. Candy came home to try to get back on her feet after she and Cheri lost everything in Florida. She hates being there, and can't wait until she gets enough money to leave again. That is, until she meets up with Turner again. They have been friends since they were kids, but suddenly she's seeing him in a whole new way. Turner has been stuck emotionally in the four years since his wife died, unable or unwilling to get involved with someone else. Suddenly he can't think of anything except spending a whole lot more time with Candy. But he has a drug investigation on his hands that is escalating quickly, and it looks like Candy could be caught in the middle. I loved watching Candy as she slowly got back into small town living, though she was fighting it all the way. Everyone in town could see what was happening, and was routing for it, but Candy was running scared. Turner knew he was falling hard, and realized that he was finally ready to start living again. I loved spending more time with the quirky characters of Bigler - I hope there will be more.