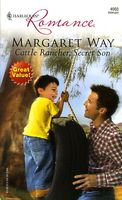 He's the toast of Australian society...
Cattleman Cal McKendrick is under pressure from his family to produce an heir for the magnificent McKendrick homestead that lies deep in the Outback. Then he discovers he's already a father!

She's the mother of the son he never knew he had


Gina Romano had loved Cal with all her soul. But in her heart she'd known she'd never be good enough for him or his society family--so she'd kept her pregnancy secret. Now that Cal knows the truth, he demands she marry him. But Gina wants Cal's love, not just to be his convenient bride....
Good book. The resumption of their relationship started out very rocky. Cal found out that Gina had kept his son a secret and forced her to return with him. He threatened to take Robbie away from her unless she married him. Gina had run from him because of interference from his family, reinforcing her feeling that she wasn't good enough for him. When they returned to the station, Gina received a warm welcome from everyone except Cal's mother, who was a snob of the worst kind. Cal put his foot down and threatened to leave if she didn't straighten up. Meanwhile, Cal's sister Meredith had fallen in love with the station overseer, the bastard son of another cattle baron. Their father pitched a fit and fired Steven (though Cal simply transferred him to another property). Then Steven's father died and left him the property. So both couples had issues to overcome: Cal and Gina had to learn to trust each other again, and Meredith and Steven had to overcome their own arguments. Overall, a very satisfying story.