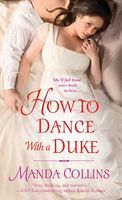 Series: The Ugly Ducklings (Book 1)
What's a wallflower to do when she's suddenly in need of a husband? Use all the pluck and moxie she can muster to get what she wants...
Miss Cecily Hurston would much rather explore the antiquities of Egypt than the uncharted territory of marriage. But the rules of her father's exclusive academic society forbid her entrance unless she weds one of its members. To clear her ailing father's name of a scandalous rumor, Cecily needs to gain admission into the Egyptian Club -- and is willing to marry any old dullard to do it.
Lucas Dalton, Duke of Winterson, is anything but dull. He's a dashing and decorated war hero determined to help Cecily -- even if that means looking the other way when she claims the dance card of Amelia Snow, this season's most sought-after beauty. But Lucas has a reason for wanting Cecily to join the Egyptian Club: His brother went missing during one of Lord Hurston's expeditions to Egypt. An alliance with the explorer's bluestocking daughter could bring Lucas closer to the truth about what happened...or it could lead him to a more dangerous love than either he or Cecily could have imagined....
Good book. I really liked Lucas. In spite of his first appearance, when he was truly rude to Cecily, he is a really nice guy who is currently under a lot of stress. Once he has calmed down, he realizes he owes her an apology, and soon discovers he is very attracted to her. He and Cecily decide to work together to find out what happened to Lucas's brother, and as a result spend a lot of time together. Due some unforeseen circumstances they end up married, and continue their investigations. I really liked Cecily's intelligence and the fact that she had no problem using it. I thoroughly enjoyed the discussions that she and Lucas had, especially when she was able to convince him of her point of view. I really liked that he wasn't intimidated by her intelligence, but rather enjoyed it. I could see them falling in love, though neither one wanted to admit it. Cecily had been hurt in the past and was trying to protect herself and Lucas just didn't want to admit it. The mystery itself was good, though I did figure out the bad guy fairly early. There were parts of his infamy that were a surprise which did make for a nice bonus. The romance was very good, and I liked the way that Lucas continued to woo Cecily even after they were married. My only complaint was that I found the story dragged a little in a few places.