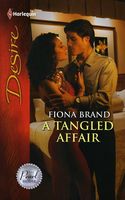 Series: Pearl House (Book 2)
They'd been embroiled in a hot, secret affair. Until Lucas Atraeus's and Carla Ambrosi's feuding families were merged by marriage and business. Suddenly the situation was...complicated. Burned by the past, Lucas has never let his heart rule his head. Now, with Carla closer than he had ever imagined she would be, their affair must end.
Saying goodbye to such intense passion is not easy...as he's now Carla's boss.
But even as he sets out to choose an appropriate bride -- one who won't break down his guard -- Lucas fears he's fighting a losing battle. Sometimes temptation is meant to be seized.
This was a good book, mostly. I liked Carla. She had been with Lucas, even though it was secretly, for two years. She knew she was in love with him, and even though he had been rather reserved lately, she thought he loved her too. Then he suddenly broke things off and was seen with another woman. Lucas felt things were getting too serious with Carla, who reminded him of a bad experience with a woman several years earlier. He felt fine with an affair, but when he started getting too emotionally involved he pulled back. I liked the way that Carla tried to keep herself together, to hold on to her pride after Lucas dumped her in a very cruel way. Unfortunately for her, she still loved him. Lucas found that even though he had broken things off, he was still obsessed with Carla. He couldn't keep his hands off her, and he hated the idea of another man getting close to her. I had a real problem with his obsessive, controlling behavior. He just couldn't let go, but couldn't give her what she needed either. I didn't like the way that he was constantly manipulating things to his advantage. The only reason I rated this a four instead of a three was because I liked seeing Carla drive him nuts. He came through in the end, but I think he needed to grovel a lot more than he did.