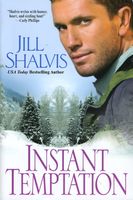 Series: Wilder Adventures (Book 3)
T.J. Wilder is the perfect package of breathtaking adventure and raw sex appeal. Even better, he's about to reconnect with the one woman he's never been able to forget...
GET YOUR PULSE RACING
To Harley, the landscape around Wishful, California, is exhilarating, untamed, and more than a little dangerous. The same could be said for T.J. Wilder, who's invited himself along on her trek to study a rare coyote. Harley's career is riding on this trip, and she doesn't need a stubborn, incredibly sexy distraction. But T.J. is a professional guide who knows when to stay back and when to provide invaluable expertise -- just like he's done since they were in high school. And Harley, as usual, is torn between throttling him and giving in to the raw attraction that's been smoldering all these years.
T.J. knows how proud and capable Harley is, but he's damned sure not letting her put herself at risk when there are illegal hunters in the area. She needs him, with the same soul-stirring urgency that he's always craved her. And here, in this beautiful place days from civilization, he'll finally have a chance to prove it -- over and over again...
Very good book. TJ is the last of the Wilder brothers to still be a bachelor. He's back in town after leading another long-term trek, and is still attracted to Harley. He hasn't been able to admit it, and doesn't know if Harley feels the same way. He does know that he's always watched out for her, even though her sense of independence won't let her accept help. When she heads out to study the coyotes, she goes alone. TJ tracks her down and invites himself along so he can make sure she is ok. They find their attraction harder and harder to resist, but neither one believes that love is a possibility for them. I really liked the way that TJ goes along with Harley to help, but doesn't just take over. He is very good at offering help without being overbearing about it. I could see that her issues kept her blowing hot and cold - she wanted TJ and wanted more than a casual fling, but was afraid to go for it. TJ also would find himself panicking when he thought he was getting in too deep. I was glad to see that both of them were finally able to face their demons. I loved the kayak trip with the coeds - TJ was so glad that Harley was along!