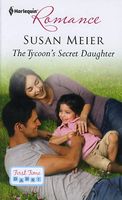 Series: First Time Dads (Book 1)
Max Montgomery had it all: charm, good looks and a career as CEO of the family business. Marriage to Kate Hunter was the icing on the cake. Until a devastating family secret sent his world -- and then his marriage -- crashing down around him.
Years later, Max is accidentally reunited with Kate, who also has a secret -- the daughter he's never met! Bonding with adorable Trisha may come naturally, but with the shadows of the past still haunting him, recapturing the heart of the woman he's never stopped loving is quite a different matter....
Very good book. I thought the whole marriage breakup was handled very well. Kate had fled their marriage after Max's drinking got out of hand and she feared for the safety of the baby she carried. When they met again years later, Max had been sober for seven years. He found out about his daughter and wanted to be part of her life. Kate had been badly hurt by Max's actions during their marriage and was afraid to trust him again, but couldn't deny him the chance to know his daughter. So she agreed that he could see Trisha, but only if she was there too. As the weeks passed, both Kate and Max started to get to know the people they are now, though Kate still had problems separating Old Max from New Max. I really liked the way Max's alcoholism was portrayed, and the battle both he and Kate had to let go of the past.