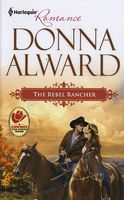 Series: Cadence Creek Cowboys (Book 2)
With his break-your-heart smile, rodeo star and rebel Ty Diamond has a reputation that should have Clara Ferguson running scared -- not straight into his arms!

Ty knows he needs to take it easy with Clara -- her past has left her with a bruised heart and she's determined never to rely on a man again. But Ty isn't all he seems...and his gentle side shakes Clara's resolute independence to its breaking point.
Very good book. I really liked Clara when I first saw her in the previous book (The Last Real Cowboy). She had been through so much, but still had the courage to move on and fight for a new life. In this book, I could see how far she had come - she has a job that she likes and is getting better about not hiding in the shadows. When she meets Ty, she has heard all about his reputation. But she sees something in him that reminds her of herself, and finds herself in the unusual position of trusting him. She also is attracted to him, but doesn't want to give in to it. She is finally getting on her feet and wants to enjoy her independence. She doesn't want to depend on a man again. Ty has come home after being away for years. He had left the ranch after butting heads with his father one too many times and hadn't been back since. But when his brother called and asked him to come home and help with the ranch, he couldn't say no. He was drawn to Clara from the beginning, but didn't want to do anything to make her uncomfortable. So he tried to be gentle and sensitive to her feelings, and found himself falling hard. He also found that Clara could see past the surface that he showed everyone, to the man beneath. I loved the way that she was able to help him mend fences with his dad, and how he showed her that she could be independent and loved at the same time.