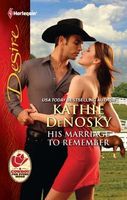 Series: The Good, the Bad and the Texan (Book 1)
Rafferty Vs. Rafferty
Her heart breaking, Bria Rafferty is about to hand-deliver divorce papers to her husband when he's knocked unconscious. Now he remembers nothing of the past six months. Not Bria's unhappiness. Not the harrowing event that made her walk out the door. Sam thinks they still live together at the Sugar Creek Ranch. That his money is all she needs. That everything is just fine.
To help him heal, Bria moves back home. But once there, she can't resist a stolen embrace...a stolen night. Can she bear leaving him a second time? Or will she find the courage to stay?
Good book. Bria and Sam still loved each other, but Bria couldn't live with him anymore. When she returned to the ranch to care for him after his accident, he didn't remember their pending divorce. Bria found that it was difficult to play the part of happily married under those circumstances, but she didn't want to cause Sam any stress by reminding Sam. Having him at home caused them to spend more time together, making her remember what it was like when they were first married. Sam started getting his memory back pretty quickly, but didn't tell Bria because he wanted a chance to make things right. He had trouble understanding what went wrong, because he hadn't really been listening when Bria tried to tell him. As they spent time together, he finally started to understand what her complaints had been. He also understood that a large part of it had been his refusal to share his past with her, so that she could understand why he was the way he was. It took her leaving again for him to realize what he needed to do. I really liked all the brothers and the way they looked out for Sam and Bria. I'm really looking forward to the rest of the series.