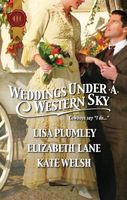 Three brides for three cowboys
Something Borrowed, Something True by Lisa Plumley
When Everett Bannon's ranch hands order him a mail-order bride, he plans to send her on the first train back home. Until he sees his beautiful bride-to-be and his wits go walkin'! But Nellie Trent isn't in Morrow Creek for veils and vows - she's an undercover journalist with an exposé to write!
The Hand-Me-Down Bride by Elizabeth Lane
Arabella Spencer's trip west was supposed to end in marriage to her longtime sweetheart - not with the discovery that he'd made someone else his wife! Can rancher Stewart McIntyre convince Arabella that Montana can still be her dream come true, with a new groom for this hand-me-down bride?
The Bride Wore Britches by Kate Welsh
Just for one night rancher Rhiannon Oliver longs to feel like a lady, so she ditches her britches for a ball gown! Cowboy Dylan Varga hardly recognizes the girl he used to tease - but then a tragedy throws them together in a way neither could have imagined...
I really liked all three stories. In the first one, Everett doesn't want a bride, but as soon as he sees Nellie he is smitten. But he was hurt before by a woman who decided she preferred city ways to a rancher. So he tries to change and be more "citified" in order to keep the girl. Meanwhile, Nellie has been told that she isn't ladylike enough to appeal to any man, so she tries to hide what she's really like to appeal more to Everett. But in both cases, the real person keeps popping up, and that is what appeals to the other. When they finally quit pretending, they are able to reach for the happiness they deserve.
In the second story. Arabella arrives to discover that the man she expects to marry has married someone else. Though understandably upset, she quickly realized that he isn't the man she thought he was anyway. When she is picked up in the town by Stewart, they don't make a good impression on each other. Stewart's sister is the one that married Arabella's fiance, and he is worried that Arabella will wreck the marriage. But as they spend some time together, they realize that they have quickly come to care for each other.
In the third story, Rhiannon has spent so much time hiding behind her shapeless men's clothing that Dylan is flabbergasted when he sees her as the woman she is. Rhiannon has always been in love with Dylan, but he has never actually looked at her until now. When circumstances cause them to marry, he tries to give her time to get to know him as a man, not realizing that she has always seen him that way. I really enjoyed his confusion over his changed viewpoint. My only complaint in this story is not finding out who attacked the ranch - perhaps this is part of a continuing story.