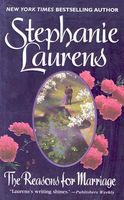 Series: Lester Family (Book 1)
The Dashing Duke... -- Lenore Lester was perfectly content with her quiet country life, caring for her father, and having no desire for marriage. She took steps to remain inconspicuous and tried her best to show indifference -- but no avail! The irresistible Duke of Eversleigh had found her out and was quite persistent in his affections... -- The Shy Miss!

Notoriously charming Jason, Duke of Eversleigh, could easily see behind Miss Lenore's brilliant disguise. Though the awkward lady hid behind glasses and pulled-back hair, she couldn't cover her beauty. And Jason was ever determined to loosen the hold she had on her heart.
Very good book. Jason decided it was time to marry and went about trying to find the most suitable one. He had a whole shopping list of the qualities he was looking for, and love was not among them. He finally decided to check out his friend Jack Lester's sister. When he arrived at Jack's for his house party, he was at first dismayed by his first sight of Lenore. She wore dowdy dresses and glasses, and showed no interest in any of the men. It didn't take him long to realize it was all a disguise, which intrigued him. Lenore had been running her father's house for several years, and playing hostess for her brothers' parties. She had decided long ago that safety lay in hiding her appeal to them. She was stunned to find out that she wasn't fooling Jason at all, and that he had decided to pursue her. I loved the way that he started out with pursuing her the way he would other women he knew, before he realized that wouldn't work with her. Then he decided to lay out his "reasons and requirements" for marriage - you can see the trouble that would cause him later. Lenore accepted his proposal, realizing she really had no choice, but resolved to try to keep her emotions safe. Having been exposed to so many unfaithful wives in London, Jason spent the weeks before the wedding spending alot of time with her, growing closing. After the wedding, their honeymoon weeks were ideal, their relationship growing stronger. I loved seeing Jason fall in love with Lenore, while not realizing that's what he was feeling. Lenore fell just as fast as she was afraid she would. When they went to London and entered society, things got rough. Lenore thought that now that she was pregnant, Jason had to reason to stay, so she pulled away emotionally to protect herself. Meanwhile, Jason came to realized how much he cared. This was definitely a story of missed opportunities. I was so happy to see that Aunt Agathe gave Jason the figurative slap upside the head, and the story after that was terrific.