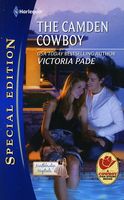 Series: Northbridge Nuptials (Book 18)
When it came to the family company, Lacey Kincaid would prove to her hidebound father that she could play with the big boys. She rode into Northbridge, Montana, to get her way with the mighty Camden conglomerate -- and was shocked to find herself up against easygoing rancher Seth Camden. Suddenly she couldn't stay out of flirt mode -- how her father would crow if he saw her falling for the opposition!

More cowboy than CEO, Seth Camden was content to tend the farms in his family's corporate empire. The pleasure was all his as he showed workaholic Lacey how to relax...until things began to feel so serious, he couldn't tell if it was alarm bells or wedding bells he heard ringing from his near future....
Good book. I really liked Seth. He is a corporate businessman that really knows how to have balance in his life. I liked the way that he had set things up so that he could do what was needed and still be happy. I felt really bad for Lacey. She wanted her father to take her seriously and she was killing herself trying to do it all. I liked the fact that she had her ladies clothing line that was her thing and that made her happy. I loved the way that Seth was able to get Lacey to relax a few times, and thought the way that he got her to the Founder's Day events was wonderful. I could see that Lacey wasn't happy, and how frustrated she was with her father, and hated the way he made her feel. My only beef with the conclusion was not seeing Lacey tell her father to stuff it. I think we may be seeing more of the Camdens, and hearing more about the journals that Seth and Lacey found.