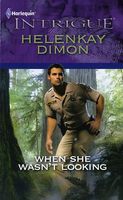 No woman could deny the appeal of the sexy deputy sheriff Jonas Porter. But to Courtney Allen, Jonas has one major flaw -- his badge. Years ago, Courtney's father was wrongfully convicted of a crime and she vowed to never trust a cop again. But when Jonas becomes the only man to believe in her father's innocence, Courtney begins seeing the brooding lawman in a whole new way.

Jonas knows in his gut that the real killer is still out there and determined to finish what he started long ago. To protect Courtney and bring the criminal to justice will require all the skills he can muster. And that means focusing on the job. Not the woman who makes him forget his troublesome past and arouses in him a passion that is anything but professional.
Very good book that kept me turning the pages. Jonas left his job with the DEA in Los Angeles after losing his partner there. He still feels it was his fault. Courtney moved to Oregon to get away from tragedy in her own life. When trouble comes after her, Jonas is the one she turns to. I liked the way that she trusted her instincts that told her she could depend on Jonas. There were a bunch of people in this story that had to be eliminated as the bad guys. I liked the way that Jonas stood up to everyone to keep Courtney with him so he could protect her. You could see that they were rapidly developing feelings for each other. I liked the way that Courtney was determined to prove her father innocent, and kept at it for all those years. I also liked the way that she was able to see reason when new evidence came out. The concluding confrontation was a heart pounder.