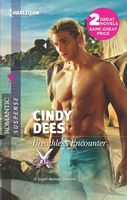 Series: Code X (Book 1)
A man-only, much more powerful...
...rescues filmmaker Sunny Jordan from certain death on the high seas. Someone wants her dead, but her mysterious savior, Aiden McKay, seems intent on guarding her life-and keeping his emotions at a distance. Sunny never imagines the sexual chemistry involved in being saved by a godlike man, a chemistry the man seems determined to ignore. He has secrets about who he is and how he can navigate oceans with the ease of an underwater killer. Swept up in an adventure, Sunny falls hard for this man whose love runs deep but is potentially deadly....
Very good book. This is the first in a new series, a follow-on to the H.O.T. Watch series. Sunny was filming an expose on deep sea fishing practices when her boat was rammed and destroyed by an unknown ship. She was rescued by Aiden. When she regains consciousness she discovers she is very attracted to him. Aiden is attracted to her also, but doesn't want to do anything about it. He is part of a group that is developing ways to enhance their abilities. Aiden is able to hold his breath for long periods, which makes him ideal for the work they are doing against pirates. But because of it, Aiden feels he must keep himself separate from Sunny, that he is not able to have a relationship. This causes him to retreat every time the attraction overcomes him. This drives Sunny nuts. Thanks to her work, she is also very observant and figures out some of what is going on. When she finds out the rest she is initially angry about what is being done, but comes to see the need. When Sunny is kidnapped by the people who are after her, Aiden comes to the rescue again, but it emphasizes to him that he can't afford a relationship. I loved the way he finally came to realize he could have it all. The underwater scene at the end was fantastic.