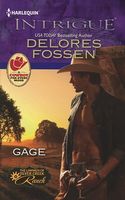 Series: Lawmen of Silver Creek Ranch (Book 5)
He faked his death for good reason, but CIA operative Gage Ryland has a better reason to come back from the grave. Though they had a bitter breakup years ago, Gage wants to save his ex-wife -- his very pregnant ex-wife -- Lynette Herrington from a vengeful hit man. Obviously the baby proves she's gotten over Gage. Or has she? While on the run, Gage feels the attraction between them heating up and yet he knows he must undo a decade of hurt and separation before she'll put her trust in them again. But complicating his emotions is Lynette's pregnancy…and how, as she claims, her unborn child could be his.
Very good book. I had a feeling from the beginning of the series that Gage wasn't really dead. He came back in disguise to protect Lynette from the hit man, but she saw through it almost immediately. They've been apart for ten years, but she has never forgotten or stopped loving him. Gage faked his death to protect Lynette and his family from the drug lord that wants him dead. They don't know if the one after Lynette is the drug lord, or her own father. Over the few days of this book, Gage and Lynette's mutual attraction comes roaring back. Lynette is hiding a couple secrets that will blow Gage away when he finds out what they are. I loved the action in this book. There is plenty for Gage to do to keep Lynette safe, and also the mind games being played by her father and his employees. I also really enjoyed seeing the brothers welcome Gage back into the family, and the way they all came together to stop the bad guys. I'm really looking forward to Mason's story.