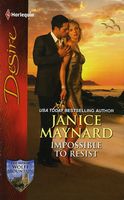 Series: Men of Wolff Mountain (Book 3)
Imposing and brooding, Dr. Jacob Wolff has built a wall around his heart as impregnable as the mountain on which he lives. Until, with one simple request, Hollywood beauty Ariel Dane knocks it down....
Ariel needs Jacob to pose as her lover. But weeks on location with the young, sassy extrovert torture the reclusive doctor...and her seductive body teases him, making him burn white-hot and hungry. Ariel hired him to protect her, not bed her. And now Jacob finds himself in an untenable situation -- lusting for the one woman he can never have.
Very good book. I liked both Ariel and Jacob. Jacob had closed off his emotions after losing too many people who were close to him. He had been hurt too much to want to risk it again. When Ariel came to him and appealed to him as a doctor to help her out, he couldn't say no. But he was also leery, as she attracted him as no woman had in years. Ariel needed Jacob's help as a doctor. She couldn't risk anyone knowing of her health issues while she was filming her new movie, so she talked Jacob into posing as her boyfriend. Neither one expected to find the other irresistible. I liked the way that Jacob stepped up when Ariel needed his help, even though he knew it would be difficult for him personally. He really did try to do what he felt was right. Ariel knew she could easily fall in love with Jacob, but thought she would be able to control herself. I liked the way that she was so open and real with the people on the movie set, and the way that everyone liked and respected her. I loved the way that Jacob came running when she needed him at the end, and I loved the conclusion.