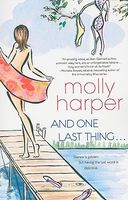 If Singletree's only florist didn't deliver her posies half-drunk, I might still be married to that floor-licking, scum-sucking, receptionist-nailing hack-accountant, Mike Terwilliger.
Lacey Terwilliger's shock and humiliation over her husband's philandering prompt her to add some bonus material to Mike's company newsletter: stunning Technicolor descriptions of the special brand of administrative support his receptionist gives him. The detailed mass e-mail to Mike's family, friends, and clients blows up in her face, and before one can say instant urban legend, Lacey has become the pariah of her small Kentucky town, a media punch line, and the defendant in Mike's defamation lawsuit.
Her seemingly perfect life up in flames, Lacey retreats to her family's lakeside cabin, only to encounter an aggravating neighbor named Monroe. A hunky crime novelist with a low tolerance for drama, Monroe is not thrilled about a newly divorced woman moving in next door. But with time, beer, and a screen door to the nose, a cautious friendship develops into something infinitely more satisfying.
Lacey has to make a decision about her long-term living arrangements, though. Should she take a job writing caustic divorce newsletters for paying clients, or move on with her own life, pursuing more literary aspirations? Can she find happiness with a man who tells her what he thinks and not what she wants to hear? And will she ever be able to resist saying one . . . last . . . thing?
I loved this book. Lacey's shock over Mike's affair was complete. She hadn't seen the signs, and now she had been blindsided. So she put her creative writing skills to use and sent out a terrific email detailing his activities. Then she filed for divorce. When she suddenly becomes the bad guy, she heads for her family's cabin to try to get herself together. There she meets Monroe, who is enjoying the peace and quiet while he works on his next book. He isn't very pleasant to Lacey, having had bad experiences with divorced women. When she lays into him, letting him know she isn't interested, he realizes she is different. They begin a slow move into friendship, then something more. I really liked Lacey and the way she let Mike have it in that newsletter. I admit to laughing hysterically as I read it, and thinking about what an effect it would have on Mike. I liked the way that Lacey went to the cabin and then tried to think what she could do up there. I loved her lawyer's advice to write down everything she could think of about her marriage, and the way that it turned into 120 pages and gave her the idea of going back to writing. I enjoyed her early encounters with Monroe and the way she would tell him off when he would interfere with what she was doing. I liked the way that their friendship developed slowly, then turned into more. There were some seriously funny moments between the two. I also loved when her brother would come up to visit, and when she went to stay with him after she and Monroe had a fight. My next favorite part after the email was the visit from Monroe's family. I loved the visit from Mike when he tried to get Lacey to come back to him and the way she laughed at him. The blow-up with Monroe wasn't so much fun, but necessary to the story. The ending was great, and I loved the scene in the beauty parlor.