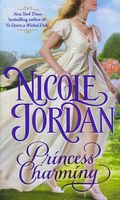 Series: Legendary Lovers (Book 1)
In Nicole Jordan's dazzling new Regency series, the scandalous Wilde cousins seek true love by imitating history's legendary lovers . . . beginning with Ashton Wilde, Marquis of Beaufort, who takes on the daunting role of Prince Charming to an unlikely Cinderella.
Thanks to the mischievous meddling of his matchmaking sister, Ashton Wilde meets a damsel in distress during the midnight magic of a lavish ball. But Maura Collyer isn't looking for a prince -- or an intimate pairing with any member of the scandalous noble Wilde family.
Intrigued by Maura's beauty and daring, Ash is determined to aid in the rescue of her beloved stallion, gambled away by her wicked stepmother to an evil viscount. As their adventure becomes rife with peril and passion, Ash suspects he's found his heart's desire.
Even though her dearest friend may be her self-proclaimed fairy godmother, Maura is mortified at being pushed into a romance with a notorious rake such as Ash. Dashing and charming, he comes to Maura's rescue just in time to help her steal back her precious horse. As they flee across the countryside, she can't resist his sweet seduction. But is her prince playing a role in a fairy tale to test an improbable theory, or is the love awakening in her heart proof of her own happily ever after?
Good book. I really like the Wilde family. I love the way they are so close and help each other when needed. They are scandalous without being too bad to be accepted. I love the way that Ash's sister Katherine has decided to help each of them find their true love. Ash doesn't think it's possible for Katherine to pick the perfect one for him, but when he comes to Maura's aid at the ball, he is intrigued by her. Maura doesn't want his help, doesn't think she needs to be "rescued". She is very independent, and has been for years, especially since the death of her father. When Maura steals back her horse, Ash is there to lend a hand, and eventually she has to admit he has been a help. He talks her into a fake engagement to protect her reputation and to help prove the viscount's wrongdoing. During that time, Maura begins to develop feelings she didn't want, and is sure that Ash does not feel the same way. She is also sure that she is not a suitable bride for him anyway. Ash was attracted to Maura from the beginning, but found that those feelings were supplemented by feelings of protectiveness and tenderness that he wasn't sure what to do about. When the horse was rescued, and the bad guy vanquished, Maura told Ash goodbye and went back to her horse farm. I loved the way that Katherine had to straighten him out, but I also loved the way that Ash gave Maura time to herself before he went after her. A very satisfying read, and I'm looking forward to the others.