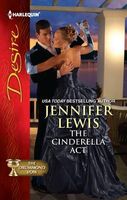 Series: The Drummond Vow (Book 1)
Fairy Tales Do Come True
Nothing appeals to Annie Sullivan's sense of romance like hunting for a missing heirloom. She can't get enough of the stories surrounding Sinclair Drummond's Scottish ancestors. But when they search his mansion together, she can't get enough of her boss-and they make love.
Simply shocking.
For a divorcé determined to stay single, Sinclair is on thin ice...with his housekeeper, no less. And when he takes Annie to a gala on his neighbor's Long Island estate, the Cinderella song and dance becomes the real deal. But will major family drama stop this fantasy fling dead in its tracks?
Good book. I liked Annie a lot. She took great pride in the work she did as Sinclair's housekeeper. She enjoyed the time they spent together searching for their part of the missing heirloom. They also spent some time talking and discovered that they had more in common than they thought. Sinclair enjoyed his time with Annie, and started noticing her in ways he hadn't before. When they were suddenly overcome with passion, he was surprised by the way he felt. He tried to convince himself it was just physical. Not long after that, he took her to a local formal affair and was blown away by her beauty. They left the party with the decision to pursue their relationship and see where it went. Then interference from Sinclair's ex nearly caused a permanent separation. I was glad to see him see what she was doing, and loved the way he followed Annie. I'm looking forward to the rest of the series, and finding out more about the goblet.