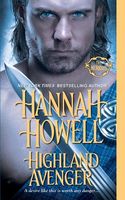 Series: Highland - Murray Clan (Book 21)
Once, Arianna Murray Lucette believed she'd met the man she could always rely on. She was wrong. Now she is fleeing for her life, and when her enemies attack a ship bound for her only refuge, she believes all hope is lost. Until she awakens on Scotland's shore to a pair of the most entrancing blue eyes she has ever seen.
When Sir Brian MacFingal first spots the sun-streaked beauty on the beach, he mistakes her for dead. Soon, however, he discovers a woman more full of life and vitality than he ever dreamed possible. But though he knows he is fit to defend her life -- even at risk of losing his own -- can such a raw warrior as he ever be worthy of her love?
Loved the book. Arianna had brought her two young wards back to Scotland with her to protect them from their uncle, who wanted them dead. When the ship they were on is sunk, they wash up on shore near the MacFingal castle. They are discovered by Sir Brian and some of his brothers, who vow to protect them once they hear Arianna's story. When Brian sees how many men are after them, he splits them up and sends each boy with a different group to his family's castle. He takes Arianna himself and heads for his cousin's castle, hoping to draw the majority after him. During their travels, Brian discovers that her late husband had subjected her to terrible emotional abuse, absolutely draining her self-worth. Over their days of travel, Brian works to show Arianna that Claud had been an idiot, and that she was a wonderful, beautiful woman. He also found himself thinking about how much he would like to have her as part of his life. But she is a member of the powerful Murray clan, and he is a younger son with no land, no home of his own, and very little money, and he is sure that there is no way he could have her. So he convinces himself that the best thing to do is give her up. Meanwhile, Arianna finds it hard to believe that this wonderful, handsome man thinks she is beautiful. The more time she spends with him, the more she comes to care for him. As much as she cares though, she doesn't feel that she can hope for marriage, as she believes she cannot have children. In five years of marriage, she had no children of her own, and refuses to condemn Brian to a life without children. Also during their flight, we find out more about why they are being pursued. I really enjoyed seeing Arianna stand up for herself against her brother-in-law's cruelty. I also loved seeing some of the characters from previous books, and watch them as they try to talk sense to Brian. My favorite part of the book came near the end, when Arianna lets Brian have it for making decisions for her without even consulting her. Classic Hannah Howell - I love it!