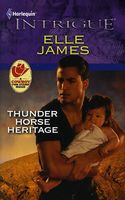 Series: Thunder Horse (Book 2)
She'd been his wife for barely a day and now FBI agent Tuck Thunder Horse was responsible for identifying her body.
So he was more than shocked when Julia Anderson turned up very much alive -- and on the run. Julia confessed to witnessing a murder and now needs Tuck to help her stay alive...and protect the baby he hadn't known she'd had.
Julia and Tuck's marriage might not have lasted, but there was no time for recriminations with a killer on their trail. As Tuck struggles to put their painful past behind them, he can't help but find himself overwhelmed by his love for his little daughter...and his still-burning passion for Julia. Unable to trust anyone but each other, they know working together is the only way to safeguard their child. Could their one-day marriage turn into a lifelong adventure?
Very good book. Tuck got called in to investigate a couple murders, only to find that one of the bodies was that of his ex-wife - he thought. It turned out to be her twin, and Julia came to him for protection from a murderer. She also brought a surprise - the daughter he didn't know about. Tuck was stunned, but fell in love with the baby right away. He also had to find out who had targeted Julia, and keep the two of them safe. Julia had run from Tuck right after the wedding, when she realized that he worked for the FBI. Her father had also been FBI and had died in the line of duty. She couldn't stand the idea of suffering the same kind of loss her mother and family had suffered, so she ran. While they were on the run, trying to find the murderer and the bad guy on the FBI side, Tuck and Julia learned more about each other. Julia learned about Tuck and his family and his strong sense of duty. Tuck learned that Julia was a lot stronger than she thought, but that she also had a great fear of loss. I really enjoyed seeing them get closer. Tuck realized that he still loved Julia and now his daughter, and just needed to be able to convince Julia. Julia found that she still loved him but had to decide if she could handle who and what he was.