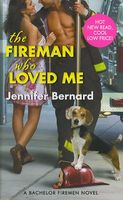 Series: Bachelor Firemen (Book 1)
Fearless, smoking hot, and single: meet the Bachelor Firemen of San Gabriel. These firemen might be heroes, but it's their bad luck in love that makes them legendary.
News producer Melissa McGuire and Fire Captain Harry Brody couldn't be more different, though they do have one thing in common: they're both convinced they're perfectly wrong for each other. But when Melissa's matchmaking grandmother wins her a date with Brody at a Bachelor auction . .
Sparks fly. Passion flares. Heat rises. (You get the picture.)
Add a curse, a conniving nightly news anchor, a stunningly handsome daredevil fireman, a brave little boy, a couple of exes, and one giant fire to the mix, and Melissa and Brody's love may not be the only thing that burns.
What a fun book. Melissa's grandmother bought a bachelor for her at a charity auction. Thanks to some fast talking on the part of the bachelor, Melissa ends up with his boss instead. There is an immediate and intense attraction, but they agree they are wrong for each other and decide to move on. Then the news anchor from Melissa's station decides she wants in on the action and finagles a way to film a Thanksgiving special at the station. The firefighters get called out to a fire in the middle of the taping, and Melissa ends up covering part of the fire for the news, before Ella the anchor takes over and screws things up. Melissa and Brody finally get together for some intense firefighting of their own. Ella spends time trying to get her own way in things, while Melissa tries to keep her in line. Melissa is also trying to do an investigation into a foster care scandal, helped by a young boy who told her about it. Then Melissa's ex-boss comes to town trying to get her to come back to LA, Brody's ex-wife comes back to town and creates some havoc of her own. Melissa's grandmother gets the last word in when she tries to help Melissa and Brody see how much they care for each other.
I really liked both Melissa and Brody. He was a fantastic captain for his fire station, able to guide his firefighters without being heavyhanded about it. I loved seeing him interact with them. He wasn't interested in a long term commitment, but wanted to get to know Melissa better. Melissa was very good at her job as a producer. I really liked seeing her do her job, and how she was able to get the best out of her crew. I wish she had been better at dealing with Ella, but by the end of the book I could see why she was that way at the beginning. Her personal growth was pretty awesome. There were a lot of really great characters in the book. I'm looking forward to seeing more of them in the next one.