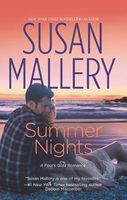 Series: Fool's Gold CA (book 8)
Horse whisperer Shane Stryker is done with passion. This time around, he's determined to meet someone who will be content with the quiet life of a rancher's wife. And the fiery, pint-size redhead who dazzles him at the local bar definitely does not fit the bill.
Small-town librarian Annabelle Weiss has always seen herself as more of a sweetheart than a siren, so she can't understand why Shane keeps pushing her away. Shane has formed the totally wrong impression of her but only he can help her with a special event for the next Fool's Gold festival. And maybe while he's at it, she can convince him to teach her a few things about kissing on hot summer nights, too – some lessons, a girl shouldn't learn from reading a book!
Loved it. Annabelle is the quiet town librarian. She is getting ready for one of the festivals that will raise money for a bookmobile. In this festival there is a dancing horse and a dance of a happy virgin. She demonstrated the dance for her friends on the bar at Jo's. Shane just happened to see the dance and immediately thought the sexy redhead was just like his ex-wife who wasn't happy unless she was the center of attention. She also cheated on him many times. This left Shane with major trust issues. Annabelle doesn't ride, but has to learn in order to do the festival. Her friend Heidi sets her up with lessons from Shane, where they both feel the attraction. Shane fights it hard, still believing that Annabelle is the wrong type for him. Over the next few weeks they spend a lot of time together, not just with the horse but doing other things. They also give in to the passion. I loved Shane's patience with teaching Annabelle. He knew just what he needed to do to help her ride. I also loved the horse that everyone thought was so vicious, but was an absolute puppy dog around Annabelle. I also loved the way that Shane took care of his mom's animals and worked to help the elephant to find friends. Shane also came to Fool's Gold to set up his horse breeding business. He had no plans to become part of the community. But this is Fool's Gold and it just sucked him in. He soon finds himself giving riding lessons to little girls, going to baseball games with the other men, and getting strong armed by the mayor. When he makes a stupid mistake with Annabelle he finds himself on the bad side of nearly everyone in town - I loved the attitude he got from everyone. I loved the slow rise of the romance between Shane and Annabelle, and the hot love scenes. I loved seeing his brothers and the other men trying to explain things to him, and the utter confusion he was going through. The conclusion was fantastic. I can't wait for Charlie's story, and then Evie's.