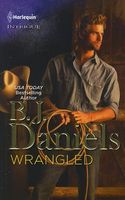 Series: Whitehorse Montana: Chisholm Cattle Company (Book 6)
Life out on the Chisholm Ranch was never dull
That's Dakota Lansing's impression, anyway. But she was always on the other side of the fence, keeping her distance from Zane Chisholm, the cowboy with a bad reputation. Now her family secrets are threatening to be unearthed and she's afraid where they'll lead, especially if it means setting foot on the Chisholm ranch....
With both their lives in jeopardy, Dakota is forced to admit Zane is her only hope of staying alive. Targeted by unknown assailants, Zane discovers his mysterious connection to Dakota is much bigger than either suspected. The feisty beauty is more than his match and is becoming harder to resist. With time running out, should he let her rope him in and go along for the ride?
Very good book. I liked Zane and Dakota. Their attraction to each other was pretty strong, and the danger they were going through only intensified it. When Zane is set up to make it look like he murdered Dakota's half sister, they work together to try to find out what is going on. Dakota is trying to find out if Courtney really is her sister, but she is missing and it looks suspicious. Zane's father's first wife, who was thought to be dead, is still missing but is still creating problems for the Chisholm family. I really liked the way that Zane and Dakota worked together on the mystery, but still had time to explore their attraction. I like the way that they are old friends who have moved up to something more. It's always nice when two people already know a lot about each other before giving in to the attraction. The final showdown was tense, and I couldn't put the book down until I was done.