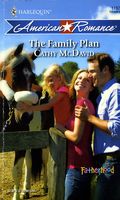 Series: Fatherhood
Is Love Enough To Keep Them Together?
When a fall from a horse ends her show-riding career, Jolyn Sutherland comes home to Blue Ridge, Arizona, to heal and rebuild her life. But the onetime star performer has jumped from the frying pan into the fire... smack in the middle of a brewing domestic storm that could sabotage her blossoming relationship with Chase Raintree, her first love.
Jolyn's homecoming is a complication the vet and devoted single father doesn't need. Especially with her family questioning whether Chase is the biological father of his eight-year-old daughter. Mandy is everything to Chase, and Jolyn could help him complete his little family. But now that family is in danger of being split apart. Chase won't let anyone take his child away from him, even if it means losing his second chance with Jolyn....
Very good book. Now that Jolyn's riding career is over, she has come home to start her business as a contractor. Her first big job is for Chase, the guy she loved as a teenager, but who had married someone else. He's divorced now, but not looking for any more complications in his life. His ex-wife had had a short affair with Jolyn's brother, and her mother is claiming that Mandy could be Steven's child not Chase's. Jolyn doesn't believe it, and Steven claims he isn't, but Jolyn feels caught in the middle. When Mandy's mother comes back to town threatening to make trouble, she nearly causes a tragedy. Out of the chaos, Jolyn and Chase are able to come together and everything works out the way it should. My favorite thing about this book was the fact that Jolyn had such a nontraditional job. She obviously was very good at what she did, and I loved the way that Chase supported her at it. Jolyn's mom really ticked me off. Even though everyone told her that Chase is Mandy's father, she just wouldn't let it go. The ex-wife was the top of the "love to hate" list though - I just couldn't understand her attitude. It was definitely a book I enjoyed.