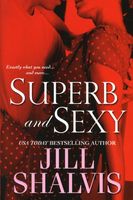 Series: Sky High Air (Book 3)
BUCKLE UP. IT'S GOING TO BE QUITE A RIDE.
Despite his brooding bad-boy attitude, Brody knows life has treated him pretty well. His luxury charter airline, Sky High, has given him financial security and the means to take to the skies whenever things on the ground get complicated. And lately, things have become very complicated, thanks to the insanely passionate, or perhaps just insane, kiss he shared with Sky High's gorgeous, wisecracking concierge, Maddie. He's tried to keep his distance, but now Maddie desperately needs help, and it's triggering protective alpha-male urges Brody didn't even know he had...
For months, Maddie hid her crush on sexy, exasperating Brody behind a cool, kick-ass exterior...and then blew that to smithereens by jumping him in the lobby. Yeah, real smooth. She's tried to break her ties with Sky High, but Brody won't let her walk away--especially now that he knows that Maddie and her twin sister Leena are in big-time trouble. To save Leena, Maddie and Brody must pose as husband and wife, and Maddie is amazed that the man she thought was oblivious to her existence knows her very well indeed. But that's nothing compared to the way she's about to get to know him--intimately, in depth, and over and over again...
Very good book. Out of all the characters in the three books, Maddie is my favorite. From the beginning, I really liked her way of taking care of everyone. I loved her ability to multitask and to do anything they needed her to do. She treated Noah and Shayne like brothers, but I could tell immediately that she did not think of Brody in any kind of a brotherly way. I kept waiting for some kind of indication that he was aware of her also, but it didn't really come until the end of the second book. I thought the way she dressed that day to get his attention was fantastic. His stunned expression was even better. In the third book, when Brody came to find out when she was coming back to work, he realized there was something wrong. The way that he pretended to leave, then snuck back and broke in to the house was fun to see. Maddie tried very hard to get him to go away and leave her and Leena alone so that they could disappear, but Brody refused to go. Even when she tricked him, he was able to catch up with her and stick with her. Maddie didn't want to draw him into her problems, but ended up being very glad he was there. She also didn't want to fall in love with him, but she did, even though she denied it. Brody knew that he and Maddie struck sparks off each other. By the time they left to try to rescue Leena, he knew it was more than a simple lust. I liked the way that he refused to be left behind and how good he was at taking care of Maddie. He had a few issues with his background versus her background, but those ended up being overcome pretty quickly. I loved the end of this one.