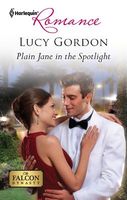 Series: The Falcon Dynasty (Book 3)
Actor and serial dater Travis Falcon photographed with yet another woman!
Travis Falcon, TV heartthrob, has given the press one too many salacious headlines and his management team wants him to clean up his reputation... So when plain-Jane Charlene Wilkins ends up on set, she's perfect "fake girlfriend" material!
Charlene suddenly finds herself on the arm of the star himself. She may not be a professional actress, but she's proving very adept at hiding the truth behind her visit to L.A.... And, with her feelings for Travis becoming all too real, her life is about to get complicated!
I really liked this book. Travis has been in trouble once too often and has been ordered to clean up his act. Charlene has come to Hollywood to find her boyfriend who hasn't been in touch like he said he would. When she finds him in the arms of another, she is devastated and shaky. She is rescued by Travis, who takes her under his wing at first. Then he asks her help in deflecting the bad press and she agrees, as long as they can be friends. Over the next few weeks they spend a lot of time together, perpetuating the myth. Soon Charlene realizes that she has fallen in love with him. Travis is developing feelings for her, but he doesn't know what they are as he is more experienced with rejection than love. I liked Charlene - her ability to see under Travis's shell to the man he really is takes him awhile to get used to, if he ever does. I also liked the way that she protected him from the people who wanted to create more scandal. Her lack of self confidence made it difficult for her to believe that Travis wanted her for more than just cover. Travis was a really terrific guy. I loved the way that he was so grounded and didn't let the fame go to his head. Seeing him jump in to help Charlene, and then be so real when they were together was wonderful. I felt bad for him that his father was such a jerk (as is shown in the previous two books also). I really hope to see him get his just desserts by the end of the series. It was good to see the other two wives in Paris and know that they saw through Amos as well. I loved the ending, and how Travis went to London with Charlene when her grandmother was ill. I'm looking forward to the rest of the series.