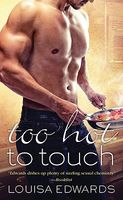 Series: Rising Star Chefs (Book 1)
Welcome to the Rising Star Chef competition, where today's hottest chefs battle it out on national TV for a chance at fame, fortune and culinary supremacy. Every contestant hungers to win, but only one will take the prize.
He's got the sizzle...
When it comes to competitive cooking, Max Lunden is no stranger to winning ... though he's never been great at working with a team. A master chef -- and major hunk -- he's traveled the world, picking up new cooking techniques as well as beautiful women. But when the prodigal chef returns home to his family's Greenwich Village restaurant, he discovers one too many cooks in the kitchen -- and she's every bit as passionate as he is.
She's got the fire...
Juliet Cavanaugh used to have a crush on Max when she was just a teenager, hanging out at Lunden & Sons Tavern, hoping to catch a glimpse of the owner's oldest, and hottest, son. Now a chef herself -- competing in the biggest culinary contest in the country Juliet will be cooking side by side with the one man she's always admired...and desired. But despite their simmering attraction, Juliet is determined to keep her cool -- no matter how hot it gets.
I really liked this book. Max came back to New York when his mom called to help out with the competition. He was not expecting to find Jules working as a chef in the kitchen. He remembered her from when they were kids - she was his brother's friend and several years younger. He left home because he and his father couldn't agree on how to do things in the kitchen. Gus wanted to stick with tradition and Max wanted to try some new things. Jules wasn't happy to see him return. She didn't think they needed his help, especially since he couldn't be bothered to come back on his own. The other problem is that she is still very attracted to him - and doesn't want to be. She has had a couple bad experiences with men and has no intention of getting involved again. Within a few days she realizes that there is no reason she shouldn't enjoy herself with him short-term, since he'll be leaving after the competition. I really enjoyed the interactions in this book. Besides Max and Jules, there was also Max's relationships with his dad and his brother, Jules's relationship with her mother, and the team relationships with each other. All the interaction was very realistic to me. I also loved all the kitchen scenes, seeing each member work together for the whole, and the visit to the market to decide their ingredients. My favorite scenes were the competition ones, where each person brought their best and supported each other. The ending was also terrific, when Max finally figured out what he'd been searching for all those years he was gone, and Jules was able to finally let go of her past. I will definitely be reading the other books she has written.