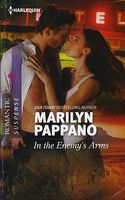 Paradise just got dangerous
It was supposed to be a routine trip to Cozumel to provide medical care for the orphaned girls of La Casa. But instead of the bustling joy of a full house, Dr. Cate Calloway finds silence, threats-and danger. And the only person she can turn to for help is the last man she wants to see.
The spoiled playboy buddy of her ex-husband, Justin Seavers has never been a man Cate could rely on. But now he's her only hope to rescue their friends who run La Casa. As the two set off on an international adventure, the former enemies are thrown together and quickly find out that looks can be deceiving...and passion can't be denied for long.
Pretty good book. I enjoyed the general story, of taking on child traffickers, and falling in love along the way. It did keep me turning the pages, waiting to see what was going to happen next, and how Cate and Justin were going to overcome the latest challenge. It was a little hard to believe that two total amateurs were able to do so much, but reality isn't always expected. I really liked Justin. He was very willing to do what needed to be done to solve the problem, and was pretty quick to see how his feelings about Cate had changed. He still liked teasing her, and doing what he could to push her buttons, but he could see how they both had changed over the years they had known each other. I had a somewhat harder time liking Cate during the first part of the book. She had no trouble seeing how her ex-husband had changed and matured over the years, but refused to see that Justin had also. I was very happy to see when she finally saw the changes in Justin and how unfair she had been. I loved seeing how everything worked out in the end.