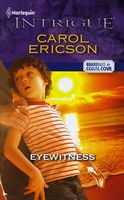 series: Guardians of Coral Cove (Book 2)
Four years in an Afghan prison couldn't erase beautiful Devon Reese from Kieran Roarke's damaged memory. So when they are reunited on a beach back in Coral Cove and she begs for help, the wounded hero doesn't hesitate. He just responds. And when he learns Devon's little boy -- a son he hadn't known existed -- may have witnessed a brutal murder, the seasoned warrior refuses to let Devon live in fear. Struggling to recall the intimacies they once shared, Kieran is desperate to keep his new family from becoming a killer's latest victims. He lost them once -- he won't lose them again.
Even if he has to die fighting.
Very good book. Devon returned to Coral Cove to get her son away from the city and the brutal death of an elderly friend of theirs. He has been having nightmares and he has turned quiet and fearful. One day on the beach she sees her former fiance who everyone thought was dead. Kieran has been mostly hiding out in Coral Cove. After four years in an Afghan prison, he suffers from PTSD and memory loss. He remembers Devon's face, but not her name or their past. He is amazed to learn that he has a son, but is concerned that his problems will keep him from being a good parent. As the days go on it is apparent that his abilities as a father are fantastic, especially since the little boy's fears appear to be fading. When Devon is attacked, he steps in to protect both of them, as they try to find out why the attacks are happening. I loved Devon and her strength. She is a fantastic mom who will do whatever is needed to help her son. I also loved the way that she is so determined to not let Kieran push her away. She knows immediately that she is still in love with him and won't let him withdraw. Kieran is terrific too. Even though he feels he is possibly dangerous to be around, he can't let anyone hurt his family. I really felt the intense connection that Kieran and Devon had, and love the fact that they are going to make things work between them.