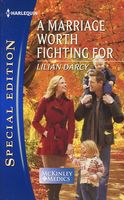 Series: McKinley Medics (Book 3)
When Alicia McKinley agreed to a whirlwind Las Vegas wedding, she'd been swept away by the sheer romance of it all. How could she not say "I do" to Michael James McKinley, the gorgeous doctor who offered her everything she'd ever dreamed of? Still, after years of coming in second to MJ's career, it was time to say "I don't" to the workaholic husband who took her totally for granted.
But MJ is not a man who gives up without a fight. He and Alicia might not have a perfect marriage, but now that he knows what is on the line, he is determined to risk everything—including his heart—for a second chance with his wife!
Very good book. This one was unusual, as the main characters have been married for seven years already. Although she hadn't been in love with MJ when they married, she has grown to love him very much. She has been the perfect wife, supporting him, raising his children, doing everything she thought he wanted. But she spends most of her time alone since he works very long hours, and she has gotten tired of it. So she packs up the kids and leaves New York for Vermont. MJ is stunned, as he didn't realize that she was unhappy - she had never said anything. He follows her to Vermont with the intention of bringing her back. But she puts her foot down and he consents to trying to work things out. Over the next few weeks as they spend time together they work at getting to know each other and their expectations. There are many issues to work out and both of them realize that they each had a part in their problems. When a crisis brings them together, they realize that they truly love each other and are able to come together stronger than ever. I enjoyed this book and its different point of view. It showed that communication is very important, and showing appreciation for one's spouse is critical. I liked the way that MJ was determined to work things out, and found his frequent cluelessness appealing.