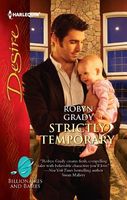 Series: Billionaires and Babies
Discovering an abandoned baby in the backseat of a taxi was not on hotelier Zack Harrison's agenda. Luckily, a stunning stranger comes to his aid - and piques his interest. But before Child Services can arrive, a snowstorm strands the trio in Zack's luxurious Colorado cabin.
Trinity Matthews wants to resist Zack's advances, but his care and concern for her and the baby soon have her melting. As the snow falls and the heat sizzles, it's not long before Trinity's sleeping in his bed. And she finds herself wondering if their temporary arrangement could have permanent effects.
Good book. When Zack found an abandoned baby in a cab, he didn't know what to do. When Trinity came to his rescue, they ended up at Zack's home, snowed in. Zack has a reputation as a ruthless businessman and a playboy. He does admit to being a committed bachelor with no interest in long term relationships. Trinity is a product of the foster care system and doesn't intend to go the family route either, as she would have no one as a backup in case something were to happen to her. When they are snowed in with the baby, they need to provide care for her while fighting their attraction. Zack isn't comfortable around babies, so he leaves the hand-on stuff to Trinity, at least at the beginning. It's not long before Trinity has him participating fully, though he still tries to remain emotionally distant. When the storm is over and the baby is back with her mother, both return to their lives in New York. Neither one can forget the other, and get together for one of Zack's family's parties. They are called back to Colorado to help the baby's mother, where she asks Trinity and Zack to adopt the baby to give her a better life. Zack panics and leaves, while Trinity and the baby's mother come to an arrangement that works for them. I loved seeing them cope with the baby during the storm, and seeing Zack get won over gave me warm fuzzies. I wanted to smack him for being so blindly stubborn, and enjoyed his conversations with his brother and father. I liked the way that Zack came through at the end.