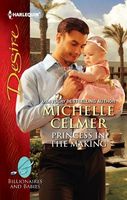 Series: Billionaires and Babies
Forbidden to Fall in Love
He was only supposed to tempt Vanessa Reynolds away from her plot to become queen. The pretty, single mother may believe she's going to marry his father, but Prince Marcus Salvatora will do everything in his power to prevent a royal marriage.
Yet befriending the lovely American and her adorable baby girl has the debonair bachelor awash in confusion. This woman and her child are not schemers. In fact, they could make his life complete. But once she leaves without a wedding ring, the powerful prince knows he'll be forbidden to ever truly make her his own.
Good book. Vanessa went to Varieo because the king had asked her to marry him. He is an older man who had stayed at the hotel where she worked. They had gotten to know each other and become friends. She came to Vareio to get to know him better before she said yes or no. When she arrived, she was met by his son Marcus because the king had been called away. Marcus had had some bad experiences with women who were after him for his money and position and was sure that Vanessa was like that too. When he started showing her around by the request of his father, he got to know her and realized that she wasn't the scheming gold digger he thought she was. Then they fell in love, but realized that nothing could come of it. Vanessa could no longer marry the king, but she refused to come between him and Marcus. I liked Marcus, especially after he realized how good Vanessa is. I liked the way he treated her and I loved how good he was with little Mia. I liked Vanessa and how concerned she was with the king's feelings. I also liked the way that she finally dealt with her father. Overall, a good ending to the book.