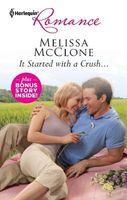 Lucy Martin's dream of marrying her Prince Charming might have fallen apart, but she's determined to make her soccer-mad nephew's dreams come true. But that means asking her old crush Ryland James, the legendary bad boy of soccer, to coach her nephew's team.
Injured and ordered to polish his tarnished reputation, Ryland's looking for distraction. Coaching might be more involvement than he likes, but with gorgeous Lucy offering cookies as a bribe he can't resist! This soccer superstar might have met his perfect match...if he can convince the once-burnt, twice-wary Lucy to get back in the game....
Very good book. Lucy came back to Wicksburg to take care of her nephew while his parents are deployed. She doesn't have very many good memories of the small town where she suffered through liver disease and a transplant, and married and divorced. Right now, she is doing her best to help her nephew who misses his parents badly. The only bright spot is his love of soccer, but even that is in jeopardy if they can't find a coach for his team. Ryland is back in town recovering from a foot injury and dog-sitting for his parents. He's been told to behave and not add to his already tarnished image. When Lucy comes to him and asks him to help with the soccer team he says ok. They both feel the attraction, but Ryland is upfront about the fact he's only there for a few weeks and not interested in anything serious. That's fine with Lucy, who is still recovering from her husband's betrayal. But as time goes on, Lucy finds herself falling more under his spell and dreaming of what could be. When Ryland goes back to his team, she is heartbroken. Then a tornado rips through the town and Ryland suddenly realizes just what is important. I really liked Lucy and the way she did everything she could to help Connor deal with his parents' absence. She even put her personal feelings aside to go to Ryland. It was pretty obvious to me that Ryland used soccer to run from bad memories of his childhood. I did like the way he was so good with the kids on the team and that he cared enough to help them. I loved the conclusion with the way he helped the teams finish their season. I'd have loved an epilogue to see what was happening with them a year or two later.