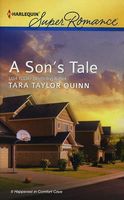 Series: It Happened in Comfort Cove (Book 1)
Twenty-five years ago…a mysterious crime was committed in Comfort Cove, Massachusetts. Frank Whittier was accused—but never charged. And it ruined his life.
Now…Cal Whittier, Frank's son, is determined to protect him, to safeguard his father's identity. After years on the run, they finally have their lives on an even keel, with Cal teaching at a college in Tennessee. Two things could change all that.
First, a cop in Comfort Cove starts looking into the case again. And second, Cal gets involved with single mother Morgan Lowen. He has plenty of reasons to avoid her—not the least of which is that she's an adult student in one of his classes. And in Cal's situation, any relationship is risky. Still…it could be the best risk he's ever taken!
Good book. Cal and Frank are living in Tennessee, not doing anything to call attention to themselves. Cal is a professor of English, and enjoys working with his students and guiding them when necessary. Morgan is one of his students, a favorite as she always has good insights into the literature they read. Toward the end of her last semester she left his class early in a panic. After work he went to her house to see if everything was ok and found that he son was missing. As his dad had been accused, but never charged, of kidnapping a child, Cal was very familiar with the stress she was under. He stayed through the night to keep her company and keep her calm until her son was found the next day. This brought them together in a new way, and they realized that they had been attracted to each other for awhile. Over the next few weeks, as Morgan dealt with issues with her father, her son, and her past, he was there for her. He was also dealing with questions from a cop delving into the cold case of the missing child, and trying to protect his dad. Morgan accepted Cal's offer to spend some "man-time" with her son, and noticed a difference in his attitude. When her son went missing again, and Cal and Frank were questioned, Morgan began to doubt her judgement. I really enjoyed seeing Cal and how good he was with his students. He also was fantastic with Morgan and her son. His caring and empathy was terrific. Morgan was a great mom, and did everything she could to give her son and safe and happy home. Her ability to accept Cal's confidence in her helped with her issues with her father, and ended up creating a good life for all of them. I'm looking forward to the next book in the series, and hopefully finding out what happened to the little girl.