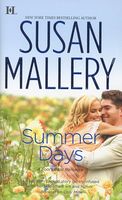 Series: Fool's Gold (Book 7)
Locked in an unexpected land dispute, Rafe Stryker is trapped in the one place he vowed never to return to -- the Castle Ranch in Fool's Gold, California. He made millions facing ruthless adversaries in the boardroom, but nothing could've prepared him to go head-to-head against stubborn, beautiful Heidi Simpson. No one is more surprised than Rafe to discover that he's finding Heidi -- and life as a cowboy -- much more compelling than he wants to admit.
For Heidi, the Castle Ranch is the home she's always wanted. After a life on the road, the vivacious blonde has finally put down roots. She won't give that up without a fight, not even for a man whose late-night kisses make her yearn to be a little less...wholesome.
As the two turn from passionate adversaries to passionate, period, they'll discover that summer love can last a lifetime.
Another excellent Fool's Gold book. I loved Heidi and her goats when I met them in the last book. After a life on the road with a carnival, she is more than ready for a real home. She put down a deposit on the ranch and moved in with her grandfather and her goats, where she is making a living selling cheese and handmade soaps. Her grandfather is a charming old rogue, who sold a part of the ranch to May Stryker to raise money for a friend with cancer. Problem is, it wasn't his to sell. Rafe has come to fool's gold to either get the land or the money back. He grew up poor and Fool's Gold and swore never to come back. Now a judge has said they must share the property until she can decide what to do. Soon May has she and Rafe moving into the ranch house with Heidi and Glen. Glen is putting the moves on May, and she has plans for the ranch that do include Heidi and Glen. Rafe is attracted to Heidi, but doesn't believe in love. He's looking for a business partnership type of wife. He also looks around at the land and sees prime development property for housing -- good for the bottom line. He also finds that as he is stuck on the ranch doing the work his mom wants done that he's enjoying it far more than he thought he would, and his San Francisco business is looking less appealing. When Heidi finds out about his plans for the land, she does something dishonest that she knows she shouldn't do, but does it anyway as a way to delay his plans. When it comes out, she's embarrassed and Rafe is angry. As the oldest when his father died, Rafe found himself (at the age of 10) being the man of the family and trying to take care of his mom and siblings. The people of the town helped also, but Rafe hated being an object of charity. Since then he has taken his job as oldest too far and been controlling and inflexible, alienating his two youngest siblings. Heidi had a friend who fell in love and was so badly hurt that she killed herself, plus her grandfather always claimed love didn't exist. Both of them have to confront their demons before they can find their HEA. I loved Heidi and how optimistic she usually was. Her goats were fantastic. I loved the scene where she came home drunk. I really liked Rafe too, especially once he started getting into the ranch life and spending more time with Heidi. He was also very good to his mother, even though she drove him nuts.