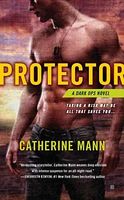 Series: Dark Ops (Book 4)
TRUST, LOVE ...AND LIES.

After barely surviving enemy torture, Captain Chuck Tanaka doesn't trust himself to do more than ride a desk -- but new orders leave him no choice. Assigned to the investigation of a mob boss whose luxury cruise ship is reportedly a hub for terrorist activity, Tanaka goes undercover. His target: Jolynn Taylor, the mob boss's daughter.


As a child, Jolynn saw her beloved uncle murdered. Since then, she's stayed far away from her father's crooked empire. But when he falls ill, she returns, hoping to mend the gap between them. Instead, she finds herself on the run, one step ahead of unknown enemies. The only thing keeping her alive is the man she knows as Charles Tomas, the only man she's ever been able to trust.

Unfortunately, he's also the man determined to destroy her family...
Very good book. I am so glad that Chuck got his own story. I really liked him in previous books, and I hoped for his recovery. In this book he gets assigned to an undercover job looking for evidence to bring down some terrorists. One of the people he has to watch is Jolynn, the ship owner's daughter. She came back because her father was ill, and originally didn't plan to stay. When she changed her mind, she ended up in the middle of the operation with her life in danger. I really liked seeing Chuck as he began to realize that he still had a role to play in the dark ops unit. I enjoyed seeing the way his mind worked and events unfolded and he had to react on the go. I also loved the strength that Jolynn showed when she decided to stick out her time on the ship to try to mend her fences with her father. When her life was threatened she ended up being rescued by Chuck. She did a very good job of doing what needed to be done without a bunch of whining. She also adapted well when she learned the truth from Chuck. Their time at the cottage in Italy was a great way of showing them get to know each other while still under threat. I liked the way that Jolynn encouraged Chuck to talk about his past, but knew when to avoid pushing. The conclusion was very good, with a surprise twist for the bad guy. I can't wait for the next one.