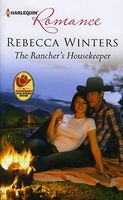 Series: In Her Shoes
Her rugged rancher...
Colt Brannigan always does the right thing, so he hires vulnerable Geena Williams as his housekeeper. But is this beautiful stranger trouble with a capital T?
Geena is overwhelmed-it takes a brave man to hire a woman with a past like hers. In return for the second chance, she'll make his house a home he'll want to come back to after a hard day's work.
Colt can be gruff, but to Geena his hard-won smile is as tender as a caress. He's let her into his home; maybe one day he'll let her into his heart?
Very good book. When Geena showed up at Colt's ranch to interview for the housekeeper's position, he wasn't going to take her. She told him that she had just been released from prison and he'd had a bad experience hiring an ex-con before. Then he found out she'd been released and exonerated, and felt bad so he hired her anyway. Geena was happy to have the job and was determined to do a fantastic job. She also wanted to find the woman her brother had been living with before he died, so she could find out if the woman had had her brother's baby. Geena was very independent, and felt bad that Colt was doing so many things for her. Colt was attracted to Geena, but also was impressed by her work ethic and lack of bitterness. He'd always been a responsible, take charge guy and continued that habit with Geena. Geena fell in love with Colt, but didn't want to be just another responsibility to him. Colt fell in love with her too, but never actually told her so until he nearly lost her. I loved seeing Gina work at the ranch, making her meals and relating to all the various family members. It was obvious she loved the ranch and ranch life. Colt was a little bit clueless, but knew he wanted to keep her around. I was glad to see them get together in the end.