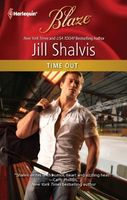 Sign up for recreational adult programs now!
Class: How to Drive Him Crazy
Instructional program for women unexpectedly facing the totally dishy guy from their past. Everyone welcome!
NHL coach Mark Diego's plan to spend his off-season volunteering in his hometown goes awry when he learns that not only is he coaching teenage girls, but that the program is coordinated by energetic (and five feet two inches of trouble) coordinator Rainey Saunders, his childhood friend -- and the woman he could never stand to see dating any other guy....
When their tempers flare, Mark and Rainey discover their fireworks don't just burn angry -- they burn very, very hot! But that'll just sweeten the victory. Because Mark always plays to win. And with Rainey, he's planning on playing very dirty, too...
Good book. Mark has come to his hometown with two of his players. They got into hot water, and now he has them doing volunteer work to help clean up their acts and their images. They will be coaching the youth teams at the rec center - and working for an old friend of Mark's. Rainey can't believe she's stuck with him. She'd had a crush on him when she was a teenager, and made a fool of herself. Now they are setting off all kinds of sparks. Rainey can't believe she is still attracted to him. She has been trying to date guys that are safe, but end up being all wrong for her. Mark has dated, had a few relationships, but with his schedule they don't last. He won't commit to something that won't succeed. He finds that he wants more than just sex with Rainey, but is also afraid to mess up what they have. When she ends up in danger, he realizes he almost loses her before he can admit to his love. I liked Rainey and how much she cared about the teens at the rec center. She gives her work everything she has, but knows she wants more. She is also a control freak that likes to have a plan for everything, including her relationships. Her time with Mark makes her feel out of control. I also liked Mark. He is also a control freak - but he controls his emotions. He is always cool and calm in his work as a coach. But with Rainey, he feels out of control. She makes him feel things that he's never felt before and that bugs him. Only when they are able to give up that control to each other are they able to find their happy ending.