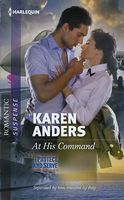 Series: To Protect and Serve (Book 1)
Six years after her brother's death in an F-18 fighter jet crash, Lieutenant Ambrosia ("Sia") Soto must investigate another pilot fatality aboard the U.S.S. James McCloud. A routine training mission claimed the life of a senator's son, and Sia must shelve her family demons to find answers. There's just one hitch. Leading her on the investigation is NCIS agent Chris Vargas: her former lover and the man she blames for her brother's death.
Can Sia bury old feelings for Vargas and overcome the past? And is there someone aboard the McCloud who knows more about these pilot "accidents" than they're letting on? Sia has more questions than answers, and what she uncovers will rewrite history as she once knew it.
I love a good military romance and this one was very good. Sia was on the ship to investigate a pilot death, and nearly lost her life at the hands of who she thought was the murderer. When she returned home, she was immediately sent back to investigate another death - this time with a NCIS agent as lead investigator. That agent was her former lover and brother's best friend, and the man she held responsible. Chris had no intention of backing away from this investigation because of Sia's presence. He had finally put the events of that day behind him, and planned to do his job, with or without her help. Sia was very good at her job, but suffered from a bit of tunnel vision when it came to Chris and her brother's death. She just didn't seem to be able to move on from his death without being able to find someone to blame. One thing she didn't expect was that they were still intensely attracted to each other. As their investigation progressed, Sia suffered from a series of accidents, and it became apparent that someone didn't want her to investigate. I really liked Chris and his healthy attitude, and the way he tried to help Sia. The conclusion was very intense, and I loved the epilogue.