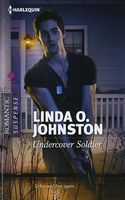 Her long-lost hero, back from the grave
Computer tech-and expert hacker-Sherra Alexander doesn't give up easily. Yet her dig into military records has placed her under federal scrutiny. In too deep, she knows anything can happen. What she doesn't anticipate is finding her presumed-dead ex-lover, army lieutenant Brody McAndrews, alive and in her apartment.
On a covert mission to uncover the truth behind a suspicious explosion that killed a comrade with a similar name, Brody must stop Sherra's research-and protect her. The only way to do that is to keep her extremely close, whether she likes it or not. As a battle of wills brings on the passion in full force, an unknown threat zeroes in, determined to silence them both-permanently.
Good book. I liked both Sherra and Brody. Sherra had one of those inquiring minds that just wouldn't let go when she found something that puzzled her. When she went hacking into government computers and uncovered some things that didn't make sense, she ended up getting a visit from a government operative. That man was Brody, the man who supposedly was dead. Now he and Sherra were both in danger from those who had tried to kill him. I loved Sherra's tenaciousness, even though she kept doing things that she was told not to do. In the long run, it worked out for the best, as it kept her and Brody safe. Brody was frustrated by Sherra's unwillingness to play by the rules he made. He had to keep her close to keep her safe, but it was playing havoc with his mental state, as he was still attracted to her. And he needed to keep his mind on the mission, to find out who had killed his friend. I really liked the way they finally started working together, and the ending was definitely heart pounding.