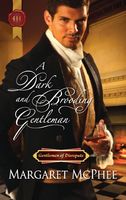 Series: Gentlemen of Disrepute (Book 2)
Sebastian Hunter has shown his last hand at the card table. Nights once spent womanizing and gambling are now spent in the dark shadows of Blackloch Hall, staring out onto the wild windswept Scottish moors.
That is, until the mysterious Phoebe Allardyce -- his mother's new and far-too-pretty companion -- interrupts his brooding. After catching her thieving, the master of the house has no choice but to keep a close eye on this provocative little temptress....
Good book. After the death of his father, Sebastian has left his rakish ways behind and is devoting his time to the care of his estate. When his mother and her companion arrive to spend time, he is surprised by the identity of the companion. Phoebe had been accosted by highwaymen and rescued by Sebastian, but they had not exchanged names. Phoebe became a companion when she needed to find work after her father was imprisoned. Now someone is threatening her father if she doesn't find and steal a particular item from Blackloch Hall. When Sebastian catches her during one of her searches, he decides the best thing to do is keep a close eye on her. He can't figure out what she is looking for, since she hasn't taken anything like money or jewels. As time goes on and he gets to know her, he realizes that things just don't make sense. Except for this one thing, she appears to be an honest, compassionate and loving person. He is also strongly attracted to her, as she is to him. When they move to London, he comes to realize that it is more than attraction he feels for her, and tries to convince her to let him help. There are a couple of surprises at the climax of the story. I liked Phoebe and the way she was doing her best to help her father. I also liked the way that she was able to help Sebastian deal with the death of his father. She also wanted to protect her father and Sebastian from the threats of those after her. I liked Sebastian and the way he came to love and want to protect Phoebe.