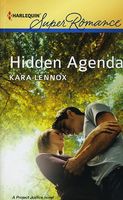 Series: Project Justice (Book 6)
Work undercover, catch the bad guy, become a full-time Project Justice investigator. Simple enough plan, until Jillian Baxter recognizes the man she's investigating. Her new "boss" is none other than Conner Blake—her childhood crush. Luckily, he has no idea who she is, since Jillian is no longer Jillybean, the short, overweight teenager he publicly humiliated.
Despite their past, Jillian knows Conner isn't a murderer. Nor is he that same cruel boy. In fact, there's much to admire about the man he is. Still, this is an ongoing case and whatever is happening between them will have to wait. As she gets closer to finding the killer, she must decide if she can trust Conner with the truth. And that could be her toughest decision yet.
Excellent book. I love the Project Justice series. In this book, Jillian has been given her first job as an investigator. She is to play the part of an administrative assistant to a lumber company executive. She is horrified to discover it is the guy she had a crush on in high school. During a science fair project she was humiliated and she has never forgiven him.

Jillian had some problems with letting go of her past with Conner, but did eventually realize that she couldn't hang on to her anger.

He didn't recognize her at first, since she has grown into a beautiful woman. As they work together she begins to see that he has outgrown that obnoxious teenage boy and has become an honorable man. She also realizes she has never really gotten over her crush and it has begun to grow into something more serious. Conner was immediately attracted to Jillian, but didn't believe she could do the job. He had had a succession of assistants and none of them had lasted. He thought Jillian was an empty-headed bit of fluff and figured she wouldn't last more than a couple days. When she was able to quickly bring order to his chaos, he began to realize he had misjudged her. When her reason for being there came out, he was furious, but thanks to the people at Project Justice found that he needed her to help clear his boss. Even after being told to work together, he still had a problem trusting her abilities. I loved the way she was able to get information and process it. She was able to figure out the murderer, but when she told Conner he didn't believe her. His disbelief nearly got her killed, and he finally realized just what she meant to him. This was one of my favorite books of the series.