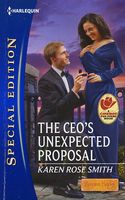 Series: Reunion Brides (Book 3)
COMING HOME...FOR KEEPS?
After losing his wife in a tragic accident, successful businessman Dawson Barrett was determined to help his son, Luke, who was dealing with his pain by acting out at school and at home. Luckily, the devoted dad knew just who to call....
As talented as she was beautiful, music therapist Mikala Conti could work miracles. To her, the real miracle was that Dawson-the boy who'd once stirred her teenage heart, then vanished-was back in town. Still, Mikala wasn't sure Dawson was ready to move on. And she certainly didn't believe that one reckless moment of passion could change their lives forever. But it might just be the way to heal three troubled souls searching for a second chance at a forever family.
Very good book. Mikala and Dawson had reconnected at their class reunion, and felt an immediate attraction. Dawson had recently lost his wife and his son was having a hard time adjusting, so Dawson came to Mikala for help. Mikala was very good at helping people through music. She was sure she could help Luke, if she could just keep her distance from Dawson. As they all spent time together she could feel herself falling in love with Dawson and Luke. She wasn't sure that Dawson was ready to move past his wife's death. Mikala had issues of her own. She had a hard time trusting men, after the man she loved left her for someone else. This only added to her abandonment feelings, left from her mother's desertion when she was younger. Once they gave in to their passion, it only confused their feelings more. I loved seeing the way that Mikala worked with Luke, and the way he slowly came to be able to share his feelings with Dawson. The final breakthrough was very moving. I loved the proposal at the end.