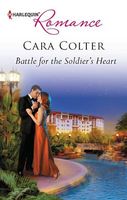 When Grace Day accepts returning soldier Rory Adams's help for the military fundraiser she's organizing, memories of her teenage crush on him come rushing back.
Growing up in practically a war zone, Rory's motto is "When you expect the worst, you are rarely disappointed." Yet Grace's sweetness, hope and light threaten his cynicism.
As she discovers the Rory beneath the armor, can Grace convince him to believe in the man he really is: a man so good it brings tears to her eyes—the man she wants to spend her life with?
Very good book. Grace was Rory's best friend's little sister. Rory got out of the military and came home right after Graham was killed in Afghanistan. Graham's last request was that Rory look after Grace. Grace has a pretty positive outlook on life, despite her losses. Rory, on the other hand, is cynical and pessimistic. He tries to protect Grace from some things that he think can go wrong. As they spend time together, he finds that rather than his negativity rubbing off on her, he is finding some sparks of hope in his outlook. When they work together to help a little boy, Grace comes to see the good man underneath the shell, and falls in love with him. But Rory doesn't see himself as being good for her and leaves to protect her. I loved the way that they brought Tucker the joy of being a kid, and hope to his mother. And I especially loved the conclusion, and how Grace got Rory to come back.