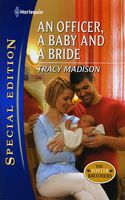 Series: Foster Brothers (Book 3)
Steering clear of military men was Rebecca Carmichael's mantra. Until the night she and Air Force captain Seth Foster took their pen-pal relationship to the next level. But the mother-to-be never expected the sexy soldier to show up on her Portland doorstep months later with an engagement ring!
Convincing Rebecca to marry him had been his mission ever since Seth found out she was having his baby. And it wasn't easy getting the won't-budge-an-inch, terrified-of-loss woman to realize they belonged together. Well, Seth could be just as stubborn -- maybe even more so. Which meant using every weapon at his command to get Rebecca to make that leap of faith and trust her future to a man who prized family above all else....
Very good book. I liked both Seth and Rebecca. Rebecca hadn't told Seth about being pregnant because of her fear of loss. Because her fiance had been killed in action, she was avoiding relationships with military men because she was afraid the risk of their jobs would cause the same kind of heartbreak. She hadn't expected to be so attracted to Seth. When he found out about the baby he immediately proposed marriage and was stunned when she turned him down flat. His personality, enhanced by his career, made him a take charge kind of guy, and he couldn't understand why that was a problem. Once it was explained to him by Rebecca's sister, her mother, and his brothers, he decided on a change of tactics. So he started spending time with Rebecca, working on them getting to know each other. He learned about her fears and tried to alleviate them. Rebecca wanted to be able to move forward, but her fear of loss was overpowering. As she got to know Seth better, she realized that she loved him, but didn't know how to overcome her fears. I loved Seth's hovering when Rebecca was put on bed rest, and how she finally got his attention when she needed it. The scene in her room the day he was leaving to go back to base brought me to tears. I loved the way she finally called him on his high handed attitude.