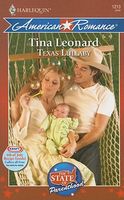 Series: Morgan Men (Book 1)
Instant Daddy?
Gabriel Morgan has been lured home to Union Junction, Texas, by a father who claims he's not trying to match his ornery son with a ready-made family. Gabriel has his commitment radar up--so when he lays eyes on the widow Laura Adams and her sweet children, he's not prepared for visions of baby booties dancing in his head!
Laura finds it absolutely irresistible that Gabriel has fallen for her little girl and baby boy. But his "proposal" to marry her and take care of them all for one year smells too much like convenience--and not enough like the love she's looking for. Does being a good mother mean putting her children first?
What Laura doesn't know yet is that her kids aren't the only ones Gabriel's falling for....
Good book. I loved seeing the evolution of Gabriel. He arrived in Union Junction planning to hide out for the year it would take to get the money his dad promised. Within an hour of arriving he had met Laura and felt the attraction to her. Then he met her kids, and discovered that maybe he was relationship material after all. I loved how quickly he fell for the kids. He also fell for Laura pretty quickly, though at first he simply planned to marry her to take care of her and the kids. Laura couldn't resist the man who took to her kids so quickly. She knew she had a good chance of falling in love with him, but didn't want to be disloyal to her late husband. She also wanted to help Gabriel repair his relationship with his father. I haven't decided yet what I think about Josiah. I really think the way he raised his sons was terrible. It made it difficult for Gabriel to recognize love at first, and made the Morgan boys becoming a real family that much more difficult. I did eventually like Laura's father, and his efforts to change were great for his family. I liked Gabriel's patience with Laura and her nerves about marrying him.