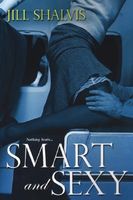 Series: Sky High Air (Book 1)
Noah is a bad-boy rebel who's always gone his own way, but when the stowaway on board turns out to be his secret crush, he'll make it his mission to keep the passenger satisfied...
Flying Solo Is Way Overrated
Noah Fisher has worked for months to make Sky High the most prestigious charter airline in California. He's long overdue for a break--something involving ski slopes, cold beers, and hot ski bunny babes, not necessarily in that order. The itinerary doesn't include being hijacked by Bailey Sinclair, gorgeous widow of one of Sky High's wealthiest (ex-) clients. But here they are, and being crammed in a cockpit with the scared, stubborn, unbelievably sexy former model he's been fantasizing about invokes Superman tendencies that could get Noah in serious trouble.
Bailey is desperate to find the stash of money hidden by her conniving, thieving late husband--before the bad guys he owed find her. It's a long shot, but nothing compared to the gamble she's taking by being so close to Noah. Every minute in his company has Bailey thinking about doing crazy, reckless things like touching, grabbing, kissing...and oh wow, being kissed right back. Suddenly, seat-of-your-pants seems like the only way to fly, and maybe it's the altitude playing tricks, but this is one trip she never wants to end...
Good book. Noah has been attracted to Bailey since she and her (now dead) husband started flying with him. Now she has hijacked him and his plane in an attempt to save her life. The bad guys told her that she had to find the money her husband stole from them or they'd kill her brother and her second grade students. At first, Noah wants nothing to do with it, but he soon realizes that she's really in trouble and scared. I really liked Noah and the way he is able to think on his feet and get them out of harm's way. He was certainly determined to help her and keep her safe. Bailey wanted to get to the half-built resorts to try to find the money, but she didn't want to endanger Noah any more than she already had. I mostly liked Bailey, and the way she was trying to keep from causing anyone else to be hurt. But I have to admit that I questioned her "smarts" on several occasions. She knew she was going to have to be able to move quickly, but she insisted on wearing totally wrong high-heeled shoes instead of sneakers or something else she could actually run in. She had a hard time following Noah's instructions, even when the bad guys were practically right on top of them. And she kept avoiding telling Noah the whole truth, supposedly to protect him - even though he was in it up to his neck from the moment she got on his plane. I got that they were really attracted to each other, but there were times they were indulging in that attraction that were just plain wrong. Overall, I really liked the book, just not one of my Jill Shalvis favorites.