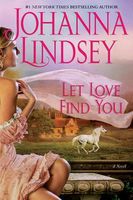 London society has its very own Cupid. Renowned horse breeder and occasional matchmaker Devin Baldwin pairs eligible young ladies with suitable gentlemen based on his theory of animal magnetism. Unafraid of ruffling the ton's feathers, this darkly handsome Cupid doles out tips for bettering one's chances of meeting a mate that are as pointed as the love legend's sharpest arrows!
Lovely Amanda Locke, the daughter of a duke, is everything a nobleman could desire, yet she enters her third Season still searching for a match. Gossipmongers' tongues are wagging, and her mystified family is considering drastic measures to find her a husband. But the insufferable advice of this Cupid fellow is the last thing Amanda wants.
When an earl passionate about horses becomes the target of her husband hunt, Amanda knows it's time to overcome her fear of riding. With her sister-in-law Ophelia hastening the romance along by arranging riding lessons, Amanda is soon taking instruction from infuriating Devin Baldwin. Astonishingly, in her daily encounters with Devin -- who treats her as an ordinary young woman, not a prize to be won at the marriage mart -- Amanda experiences passion for the first time. Now, her search for a match takes her in an unexpected direction as she finds herself falling in love with Cupid himself.
Good book. Amanda has begun her third Season and is still looking for a husband. She doesn't understand why she hasn't immediately fallen in love with someone. When she encounters Devin at a ball, she takes an instant dislike to him, especially when he starts giving her unwanted advice. Devin has set up a new horsebreeding farm near London and has started attending events in order to make more contacts for his business. He has fallen into matchmaking because of his ability to match up people he thinks would suit outside of the usual methods. He is also very blunt and doesn't dress things up in pretty words. When Amanda sets her sights on a gentleman who is horse mad, she finds she needs to learn to ride in a hurry. Even though she doesn't like him, she starts riding lessons with Devin. Over the weeks of her lessons, she finds herself losing her antagonism to Devin and enjoying his company. She finds him very easy to talk to, and his patience in getting her over her fear of riding was just what she needed. The only thing she can't understand is why she keeps thinking about him instead of the man she had picked out. Devin finds Amanda incredibly attractive and not a little frustrating. But he is a bastard and knows that there is no way he could ever win her for himself. He tells Amanda of his birth to scare her off from the attraction she feels and is stunned to find that it doesn't matter at all to her. When she is attacked, he rescues her and while comforting her their passion takes over. When he tells her she must forget about him, she rides off with him chasing her and someone shoots at them. Devin takes off to find out who is father is, for he feels that he is the one trying to kill him. The revelations that come out are very interesting and explain a lot of things that had been happening. I really liked the ending, and how Amanda's father and brother treat Devin. Overall, I really liked the book. The only problem I had with this one, was the frequent use of contractions such as "a'tall", "m'dear" and so on. It may be the way it sounded when they talked, but reading it was very distracting.